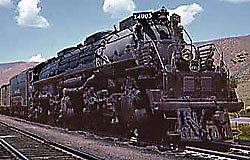 The Empire is a vast political entity spanning some twenty million square kilometers of territory. Efficient communication and transfer of supplies, however, is made possible thanks to a massive, dense network of railroads across the entire nation.
The Grand Network
Edit
The so-called "Grand Network" is the primary rail system of the Empire: a national, state-operated system built and funded by the Imperial Government and controlled by the Ministry of the Interior. The Grand Network's tracks are a very broad gauge of 1,728mm (5'6") and it operates extremely large locomotives, the most common and modern of which is the Type 5041 2.6.6.6-Pattern Grand Steam Locomotive. Often, several of these huge engines will be linked together to pull truly enormous trains of military or industrial supplies. However, the Grand Network is also used to ferry passengers between major cities, while other minor networks take over for shorter distance travel. A typical train in Civil Service will pull a mixture of industrial cargo and passengers, while a train ferrying military supplies is always completely devoted to that task.
Type 5041 2.6.6.6-Pattern
Edit
The 2.6.6.6 is a classification referring to the arrangement of wheels on the locomotive. This means it has two leading wheels, two sets of six drive wheels and six trailing wheels. These monstrous engines are articulated locomotives, meaning they are effectively two locomotives with two sets of drive wheels sharing a common boiler, and are capable of achieving a staggering 8,000 horsepower. They require a huge tender car with a 25,000 gallon water tank and 25-ton coal bunker.
The Civil Network
Edit
The Civil Network is a series of localized networks operated by the Ministry of Interior to provide shorter-distance travel, and its lines are particularly dense within the Imperial Prefectures (the provinces of the Empire administered directly by the Imperial government). Trains on the Civil Network are much smaller and use a narrower track gauge; however, they are still powerful, fast-moving locomotives. The Civil Network also connects various factories at a more localized level, and is often used for carrying parts or half-completed goods between production facilities.
Provincial Networks
Edit
Most larger Imperial provinces, particularly the 12 Realms, operate their own, purely local rail networks, although these are built to the standards of the Ministry of the Interior and regularly inspected.